Christmas special offer
Get both of these CDs until 25 December at a special price, inclusive of postage and packing.
Recordings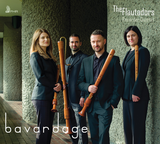 The Flautadors plus recorder players Sophie Creaner, Tabea Debus and Mirjam-Luise Münzel and percussionists Matthew Frost, Megan Landeg and Elaine So
"The Flautadors has long excelled right across the board when it comes to the recorder repertoire and such diversity is in evidence throughout this disc – which is recorded with an ideal blend of space and clarity, and informatively annotated by members of the ensemble."
---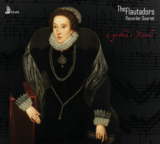 Music which provides a glimpse into courtly life during the reign of Queen Elizabeth I.
"...the repertoire is delightful, the playing first-rate, and the recorded sound ideal… exceptionally well-written, informative, and imaginative booklet notes place this release at the forefront of the blessedly burgeoning boom of recorder ensemble recordings. …make acquisition of this disc an immediate priority; enthusiastically recommended"
Fanfare Magazine, 2016
"Flautadors Recorder Quartet play in perfect harmony. I especially like their beautiful and relaxed sound... A beautiful and varied programme including some less familiar pieces and all in splendid performances."
MusicWeb International
"...This is a well-planned CD, with music flowing comfortably from one track to the next. The Flautadors, sometimes joined by a fifth player, Leo Chadburn, play with poise and precision..."
4.8 stars out of 5, Early Music Review
"...this disc deserves an enthusiastic welcome as we have here a beautiful and varied programme, including some less familiar pieces, all in splendid performances."
---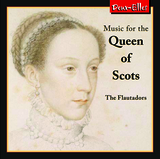 The Flautadors present the dramatic life of Mary, Queen of Scots reflected in music. Exquisite gems from the Scottish Renaissance are contrasted with lively French dances and glorious polyphony performed on a beautiful consort of recorders made by Thomas Prescott together with percussion played by Corrina Silvester.
"A beautifully poised and deliciously played musical biography of Mary Stuart... [The Flautadors] are so fully in control of every detail that they can fascinate the ear by the range of their colours, their articulations, their delicate phrasing, their sheer musicianship."
Gramophone, June 2011
"Very attractive recital of early music"
Rob Cowen, BBC Radio 3, June 2011
"Outstanding ensemble"
Paul Herriott, RTÉ Lyric FM, October 2010
---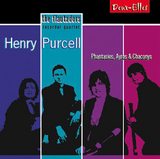 The Flautadors recently completed a recording of works by Henry Purcell and Matthew Locke, with the lutenist David Miller. This CD, Phantasies, Ayres & Chaconys has been released on the Deux-Elles label and is available for purchase from Deux-Elles.
"Beautifully balanced consort playing"
Gramophone, August 2007
"Phantasies, Ayres and Chaconys, played with exquisite poise and delicacy by the Flautadors, catches all the grace and the exhilarating freshness of the music"
Glasgow Herald, September 2007
---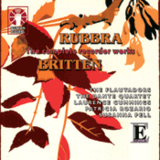 In November 2004 The Flautadors released a CD of the complete recorder works of Edmund Rubbra and Benjamin Britten for Dutton Epoch with The Dante Quartet, Laurence Cummings (harpsichord), Patricia Rozario (soprano), and Suzanna Pell (viola da gamba).
"The Flautadors play with elegance and skill. Their ensemble is excellent"
International Record Review, February 2005
"expertly and beautiful performed, the music a delightful combination of the old and new"
American Record Guide, June 2005
---
To order copies of the quartet's recordings, please use the links above to buy online
All content copyright © The Flautadors 2018